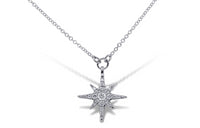 Starburst Diamond Pendant
Celestial design diamond pendant with pave diamonds on a classic cable chain.
While most items are always kept in stock, and will ship out on same day as order, please allow 10-14 days for delivery.
All Sydney Rosen Diamonds are Excellent Cut, Near Colorless, and Eye Clean.  We meticulously select every diamond to ensure it meets our high standard for brilliance and beauty.